For many years, Schötz Umzüge has been in the international market of removers and is characerised by strong quality standards.
Our services – removals from A to Z
Cost-free removal advisory service on the spot / in the Internet
Preparation of a non-binding, written quotation
Assembly and reconstruction of furniture and fitted kitchens
Provision and delivery of packing materials on schedule
Paintwork and floors by experts
Disassembly and assembly of waterbeds
Application of furniture lift
Transport service
Establishing no-parking and stopping restriction zones nationwide
Furniture-in-transit insurance
Disposal
Customs clearance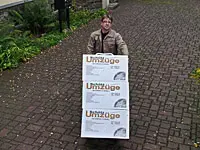 Packing moving boxes may involve a lot of time and effort, and the date of moving comes closer and closer. Furthermore, a lot of things of daily life are required up to the end. Therefore, we offer you our packing service. No matter whether we pack your household effects completely or just in parts. No matter whether the cartons are to be unwrapped and replaced in cupboards at the new home or not. We assist you fully according to your personal requests. Of course, all moving boxes are marked and carefully packed.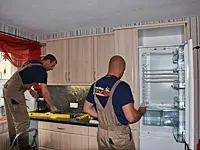 The removal of your kitchen or fitted kitchen does not represent any problem for us. All works at your kitchen are done by qualified kitchen specialists who also take on the adaption of new work plates or setting new sections. Of course, all necessary connections are professionally provided as well.
You are in need of new electrical appliances or further furniture for your kitchen? Our partner company the Küchen – Galerie in Brand-Erbisdorf is looking forward to assisting you. Further information under www.kuechen-for-you.de.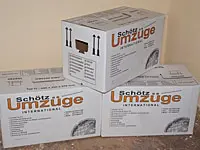 Of course, we have moving boxes available on stock for our customers. You will learn under the point packing material which one is best suitable to you. However, for obtaining moving boxes from us you are not required to move with us. We would be well prepared to sell you the boxes as well. Of course, we also deliver to your home.
Call us and ask for our favourable offers.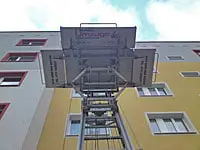 For transporting furniture via several floors, we apply street elevators. A street elevator may cope with heights of up to 25 metres, which means approx. seven floors and has a load of up to 400 kg. This is how your removal is substantially faciliated and simplified. Transport becomes more gentle and frequently substantially cheaper.
★★★★★ The best reference are our customers. 220 positive reviews speak for themthelves!
Benefit from our expertise of over 17 years of experience.
We are a international moving company servicing to all European countries and worldwide.