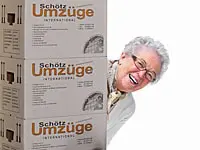 Within life, one assumes responsibility for ones own family. This often also requires making own decisions even if it is difficult. Some day, seniors have to decide whether they would like to continue living at their home or whether they could imagine moving. There are many reasons why people are required or want to move again at their final phase of life. Frequently, a comprehensive care has become necessary or the present home does no longer comply with the requirements of a person who is no longer that mobile than he used to be. A removal always means a change, often involving a huge amount of stress, but for old-age people moving is even more difficult, since frequently this means parting with the familiar environment.
We offer distinguished moving services: preparation, execution and post-processing from one source. Our basis service is full service: You see to nothing, we to the rest! Our employees take on the complete assembly and disassembly of the furnishing including kitchen assembly. We pack your contents and furniture and unpack it again at your new home. All the things will be in their proper place. We will hand over the new domicile ready to move into and leave the old one well-swept. Of course, if requested, we also deal with dissolving of households, clearing out, disposal and renovation works.
Taking stock prior to moving
Since your new home frequently has less space left than the old one, you will probably have to disassociate from pieces of furniture you have become fond of and which are full of valuable memories. Should you have children: Discuss with them whether there are objects they would like to keep as a memory. Please also address to charitable institutions. It is often easier to disassociate from belongings if you are aware of helping others therewith.
Which kind of living is the right one?
First of all, you should think about the demands you have on your new home and whether they are compatible with your possibilities. Given the variety of options, filtering out the suitable one for you is really not simple. Some important aspects for making your choice:
Do you require care or support?
What about your mobility, should your new home be barrier-free?
Do you prefer staying in your habitual environment or are you open for anything new?
Do you like it rather quiet or are you in need of diversification and the possibility to experience a lot of things nearby?
Last but not least, your financial situation plays an important part as well. Maybe you are entitled to an allowance of your health insurance company. Contact your consultant. Should your children be prepared to grant you financial assistance, you should clarify the tax benefits resulting therefrom.
Support during moving our full service
Assistance and advice in the installation of furnishings and equipment suitable for seniors
Assembling and disassembling furniture and technical devices
Kitchen assembly and kitchen design
Furnishing and equipment and property are wrapped and unwrapped and stored safely in cardboard boxes
Clearing out cellar rooms, attics and storage rooms
Preparation of move-out inspection by final cleaning
Renovation of living space
Dissolving of households
You are interested? Then we are looking forward to your removal inquiry.
This post is also available in: German